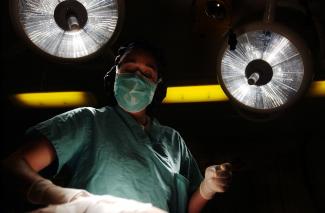 Medical malpractice is the failure of a doctor or other medical professional to provide the expected standard of care resulting in the injury or death of a patient. The human cost of medical errors is high.
In a major study released in 1999, the National Academy of Sciences Institute of Medicine found that up to 98,000 people are killed each year by medical errors in hospitals -- far more than those who die from car accidents, breast cancer, or AIDS. Please see Kohn, Corrigan, Donaldson, Eds., To Err is Human; Building a Safer Health System, Institute of Medicine, National Academy Press: Washington, DC, 1999 (These figures vastly underestimate the magnitude of the problem since hospital patients represent only a small percentage of the total population at risk). Yet eight times as many patients are injured by medical malpractice as ever file a claim; 16 times as many suffer injuries as receive any compensation. Please see Harvard Medical Practice Study, Patients, Doctors and Lawyers: Medical Injury, Malpractice Litigation, and Patient Compensation in New York, 1990.
Our attorneys have represented physicians, hospitals, nursing homes and healthcare industry members in a variety of legal matters unique to the healthcare industry including:
Professional Malpractice Litigation
Medical Records Retention and Privacy Issues
Nursing Home Litigation
Medical Staff Bylaws and Regulations
Professional Liability Insurance Claims
Agency for Health Care Administration (AHCA) Investigations and Administrative Complaints
Department of Health (DOH) Investigations and Administrative Complaints
Department of Children and Family Services (DCFS) Investigations
Jeremy K. Markman has taught law students in the area of medical malpractice and health care. Mr. Markman has been a featured speaker in educational and risk management programs for medical groups, hospitals and nursing homes. He has provided lectures and materials for educational programs regarding preparing for and preventing a legal malpractice claim, records management, family and patient issues, charting and documentation. Let his experience work for you, please contact King & Markman.
Don't Hesitate to Ask. Law is a Complicated Matter.