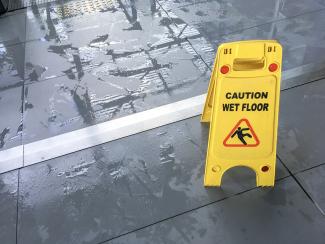 "Slip and fall" is a term used for a personal injury case in which a person slips or trips and falls, and is injured as a result of a dangerous condition on someone else's property. These cases fall under the broader category of cases known as "premises liability" cases. The term "premises liability" refers to a situation when an individual is injured on property, or "premises" owned or maintained by someone else, and the owner or possessor of the property is held liable for such injury.
Dangerous conditions such as torn carpeting, changes in flooring, poor lighting, narrow stairs, or a wet floor can cause someone to slip and hurt him or herself inside a building. In addition, a slip and fall case might arise when someone slips or trips and falls because of inappropriate or slick flooring, the owner's failure to adequately clean the flooring, or a hidden hazard, such as a pothole in the ground.
At King & Markman, our attorneys are dedicated to representing individuals who have been injured due to a property owner's failure to provide reasonably safe premises. If you, a family member, or someone you know has been seriously and/or permanently injured as a result of a slip and fall accident, please contact King & Markman.
Don't Hesitate to Ask. Law is a Complicated Manner.